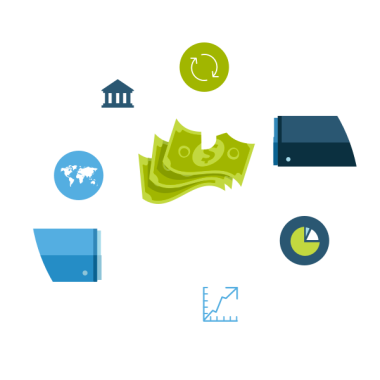 Smart Affiliate Management
The connection between a publisher, advertiser, and consumer is centered at the heart of smart affiliate marketing.
Affiliate Marketing is defined as utilizing an affiliate and rewarding them for referring a visitor to you, or rewarding a customer for completing a wanted action. These can come in forms of a customer purchasing something or subscribing to a blog or newsletter of yours. In some respect, Affiliate Marketing can be viewed as free publicity for your brand and your website—an intricate network of similar websites pointing potential customers towards your page.
Affiliate marketing campaigns are best run whey we combine them with Search Engine Optimization (SEO), Email Marketing, Pay Per Click (PPC) campaigns and these marketing strategies work well with retail, travel, and service industry leaders, due to their large-volume sales.
Logical Affiliate Marketing is not trying to rely on throwing your website out at other various website owners hoping it will stick. It is a well thought out, strategic effort aimed at developing long-term relationship with reputable relevant third party sites. Building this affiliate network is a key to bringing in quality consumer traffic.
The advantages don't stop there! Smart Affiliate Marketing also involves additional business maneuvers like having the ability to be flexible and reasonable with commission rates, especially when sales have slumped. Always keep in mind, an increased commission will encourage your affiliates to work harder for you.
14
Affiliate Marketing Campaigns
8
Recruiting new affiliates
9
Selection of affiliate networks
3
Affiliate Rewards Program Management Irene Warner
CEO & Founder
"We've looked at a lot of SEO solutions but these guys were always the clear favorite. They have the right strategy and they've been awesome to work with." Jeffery Polk
CEO & Founder
"We have a constant flow of new leads thanks to this amazing SEO company. They gave us all the tools to convert leads into customers." Gabriel Townsend
Quality Realty Service
"This incredible team managed to not only get us top positions on Google for all of our top keywords, but they kept us there, as well! I would highly recommend this company to anyone."
Our team of affiliate managers will establish a clear-cut understanding of your brand and products to push you past your competitors. We have the technical experience to give you the ability to connect with multiple networks in your industry, leading to the most suitable relationship that will drive your business to success and generate volumes of profitable sales.
It is critical to keep building a trusting relationship with your affiliates. By paying your commissions on-time you'll keep your affiliates happy. These strong relationships are keys to maintaining a successful campaign. Our goal is to build trust in your brand. That is why our team of experienced specialists use creative strategies and key relationships with your major affiliates to build leads, sales, and profits for your business.
Share your vision with us
Let's put your project in the capable hands of our team!
We'll get your brand established in the online marketplace, and continue to grow it with passion.